June is a busy month for NASA Wallops Island Flight Facility with many large events happening.
To start the month off, Wallops will be hosting viewings of the famous OC Air Show, which flies into Ocean City, Maryland every summer.
Wallops will host the U.S. Air Force Thunderbirds and F-35 Heritage Team on June 16 and 17. The Thunderbirds are scheduled to arrive at Wallops during the afternoon of June 11, and the F-35 aircraft will arrive the afternoon of June 14.
The NASA Visitor Center will be open for viewing the aircraft depart and land June 15 – 17. The Visitor Center will be open for viewing the aircraft departures and landings when the demonstration teams conduct their airshow practice the afternoon of Friday, June 15, and when they perform in the airshow Saturday, June 16. In addition, The Visitor Center parking lot will be open Sunday, June 17, for viewing departures and landings for the airshow performances.
The NASA Visitor Center, located on Va. Rt. 175 about six miles from U. S. Route 13 and five miles from Chincoteague, is open Tuesday through Saturday from 10 a.m. to 4 p.m. Admission is free.
——————————————————————————————————————
In addition to the Air Show, NASA Wallops will be executing their next rocket launch in the month of June. The next launch is scheduled for June 21 at 5:30 a.m. EDT. This launch is part of the RockOn (education payloads) mission and a Sounding Rocket, Suborbital, will be launched.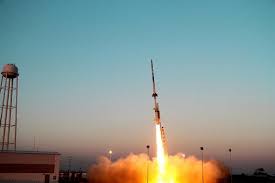 So what is a Sounding Rocket? Sounding rockets take their name from the nautical term "to sound," which means to take measurements. Since 1959, NASA-sponsored space and earth science research has used sounding rockets to test instruments used on satellites and spacecraft and to provide information about the Sun, stars, galaxies and Earth's atmosphere and radiation. During the 30 minutes NASA's sounding rockets are airborne researchers have time to collect important scientific data and conduct engineering tests. This type of testing is unique because it's simple, cost-effective and time efficient.
Because of its low cost and short lead time, sounding rocket payload testing is invaluable to students conducting graduate work in scientific fields. High school students can fly experiments on a sounding rocket through the NASA Student Involvement Program. Through the program, students work with NASA to develop the experiment and participate in the launch.NASA's Wallops Flight Facility in Virginia is host to about 25 sounding rocket launches annually and is proud of its 98 percent launch rate. The Sounding Rocket Program has assisted the nation's space program by providing important technical, scientific and educational contributions.
——————————————————————————————————————
Aside for these two large events that are happening at NASA, they are also hosting a few smaller events.
On Saturday June 16:
11 a.m. – Rig-a-ma-jig: Space Exploration
Use your engineering and your imagination to construct with the wood planks of rigamajig. What can you build to explore our solar system? Time to build may be in 20 minute rotations. Approximately 1 hour. Geared toward ages 8 to adult.
2 p.m. – Peculiar Planet: Jupiter
Have you ever wondered about other planets when looking up at the night sky? Join us for a short program to learn about Jupiter. Approximately 15 minutes. Geared toward ages 8 to adult.
On Saturday June 23:
11 a.m. -Puppet Show
Join Sam the Monkey and Puppet Astronauts Jenny and Jeff as they go on an adventure in space. The Puppet Show will be followed by a short animated film. Approximately 20 minutes. Geared toward ages 3 and up.
2 p.m. – Tour of the Solar System
During this Science on a Sphere presentation, we will take a tour through our solar system with stops at the sun, the planets, dwarf planets, and moons. Approximately 30 minutes. Geared toward ages 8 to adult.
On Saturday June 30:
11 a.m. – Story Time: Space
Listen to a story and make a craft that will explore different science themes. Approximately 30 minutes. Geared toward ages 3 to 6.
2 p.m. – Rocketry: Water Bottle Rockets
Learn about the Sounding Rocket Program at the Wallops Flight Facility. Take turns to fill and launch water bottle rockets. Approximately 20 to 60 minutes. Geared toward ages 6 to adult.